3rd Annual Airway Article of the Year Winner Announced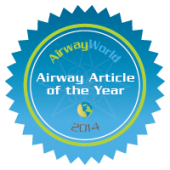 The winner of the third annual "Airway Article of the Year" award was announced during a live webinar hosted by AirwayWorld.com on December 5, 2014. Calvin Brown III, MD and Cheryl Lynn Horton, MD, hosts of the webinar, presented three articles as nominees. The nominees were chosen from among all of the articles covered during the Airway World Research Update webinars in 2014.
The content and merits of each article were presented. Delayed sequence intubation: A prospective observational study by Scott Weingart, MD, et al. was chosen as the winner by a vote of the on-line audience during the show.
The 2014 Nominees were:
1. Weingart, SD, et al. Delayed sequence intubation: A prospective observational study. Ann Emerg Med 2014 Oct. View NEJM Journal Watch Summary
2. Sakles, JC, et al. Comparison of the reusable standard GlideScope® videolaryngoscope and the disposable Cobalt GlideScope® videolaryngoscope for tracheal intubation in an academic emergency department: A retrospective review. Acad Emerg Med 2014 Apr; 21. View NEJM Journal Watch Summary
3. Sakles, JC et al. Learning curves for direct laryngoscopy and GlideScope® video laryngoscopy in an emergency medicine residency. West J Emerg Med 2014 Oct. View NEJM Journal Watch Summary
In Weingart's study, researchers conducted a multi-center observational study investigating the use of ketamine to induce a dissociative state to aid preoxygenation in agitated or delirious patients. Overall results showed improved oxygenation, even in high risk patients (those with saturations less than 93%). Though this was a small study in a specialized environment, the results revealed an average 9% increase in pre- and post-DSI oxygenation with no reported adverse events. According to the study, "Delayed sequence intubation could offer an alternative to rapid sequence intubation in patients requiring emergency airway management who will not tolerate preoxygenation or peri-intubation procedures. It is essentially procedural sedation, with the procedure being preoxygenation." The procedure is not widely used today but according to Dr. Brown, "Dr. Weingart's study may be a glimpse into the future of emergency airway management for a patient population that has historically been difficult to manage. That is why we feel it is worthy of this award."
» Back to Full News Page