The Difficult Airway App Version 2.2 Released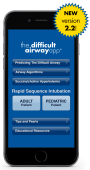 Airway Management Education Center is pleased to announce the release of the latest version of The Difficult Airway App™ for iPhone, version 2.2.
The Difficult Airway App™ is an essential tool for clinicians who manage emergency airways in the Emergency Department, ICU, in-patient unit or EMS environments. This app guides users quickly and easily through key algorithms and predictors of a difficult airway. It also features a drug dosing calculator – guiding the selection of RSI drugs and automatically adjusting doses for body habitus and qualitative blood pressure. The app also features pediatric RSI dosing and equipment selection using the Broselow-Luten color system or child's estimated weight.
Updates for version 2.2 add the new EMS Difficult Airway Algorithm to the app.  This algorithm is modeled after the original Difficult Airway Algorithm, but is tailored to the EMS environment.  The update also makes an adjustment in the Pediatric RSI section – changing the stylet size in the Purple Zone from 10F to 6F.
"We strive to provide effective tools and support for clinicians who manage airways, most often in stressful conditions," says Terry T. Steele, Executive Director. "We are pleased we are able to make the app even more useful for providers in the highly stressful pre-hospital environment."
The Difficult Airway App™ is available in the iTunes App Store. Learn more about the app at www.theairwaysite.com.
» Back to Full News Page